Biography
Dexter Benedict is a sculptor, and the owner/operator of the Fire Works Foundry and Sculpture Studio in rural Yates County near Penn Yan, New York. Mr. Benedict received a B.A. in Art from Ottawa University, Ottawa, KS. and an M.F.A. in Sculpture from the University of North Carolina at Greensboro. His work through the years remained primarily figurative in imagery. He has been fortunate to have secured a number of corporate and private commissions, ranging from small commemorative awards to monumental bronze portrait figures. He enjoys the dialogue with the client as he attempts to create work that is satisfying in its content, yet interesting in the interpretation through the idea, image, and process.
Mr. Benedict works directly in the clay to develop the form and then, using the Lost Wax Process, casts the work in bronze in his foundry. He continues to create new work in addition to ongoing commission pieces, as well as cast work for other sculptors as time allows.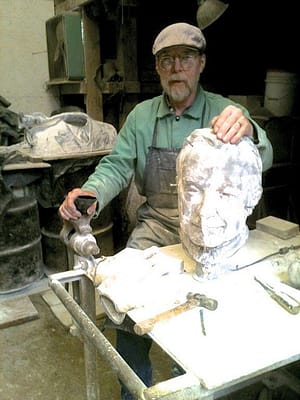 Mr. Benedict retired in 2010 from Keuka College after many years of teaching in the Art Deptartment. He was honored with the title of Professor of Art, Emeritus.
Mr. Benedict has stated that "I enjoy my work as a sculptor, attempting to give form to the visual poetry and spirit that I feel, imagine or see as I develop an image. The process is fascinating, from the evolution of an idea in the transitory soft clay to the conversion into enduring bronze, and continues for me to be work worth doing. I hope that the viewer can find meaning and some sense of the thought and process 'fire' in the work."